What is Cryptocurrency?
Using a digital payment system without a bank to verify transactions is known as cryptocurrency. Payments can be sent and received by anybody and anywhere. It is possible only because of peer-to-peer technology. Payments made with cryptocurrencies only exist as digital entries to an online database that list specific transactions, not as genuine physical coins that can be carried and swapped. All bitcoin transactions concerned with money transfers are recorded in a public ledger. The place where cryptocurrency is stored is in digital wallets.
Cryptocurrency has gained its name because transactions are encrypted and verified.
This means that storing, transmitting, and recording cryptocurrency data to public ledgers involve sophisticated code. The purpose of encryption is to offer security and protection.
The first cryptocurrency, which is still the most well-known today, was developed in 2009:Bitcoin. People are mainly interested in cryptocurrencies to trade them for profit, with speculators occasionally driving up prices.
Examples of Cryptocurrencies
Bitcoin
The original cryptocurrency, Bitcoin, was created in 2009 and is currently widely used. The person or group with an unknown specific identity, usually Satoshi Nakamoto, is credited with creating the money.
Ethereum
A blockchain platform created in 2015, Ethereum has its cryptocurrency called Ether (ETH), also known as Ethereum. It is the most widely used or traded cryptocurrency after bitcoin.
Litecoin
This cryptocurrency is comparable to bitcoin, although it has advanced innovations more swiftly, such as quicker payments and procedures to support more transactions.
Ripple
In 2012, the Ripple distributed ledger system was designed. Ripple is a technology that monitors more financial transactions than only bitcoin ones. The company that founded it has worked with several banks and financial institutions.
To distinguish non-Bitcoin cryptocurrencies from the original, we use the term "altcoins."
Features of Cryptocurrency
Anonymous: You can sell, purchase, lend or borrow using cryptocurrencies without providing personal information like name, credit report, or even a bank.
Highly secure: All records of when it was created, sent, or received are kept in public, open-access large digital book. It can be used anywhere and is not easily open to theft or seizure.
Illegal and very volatile: However, cryptocurrencies are not limited to illegal activities. It has lost favour on the black market because of its price fluctuations and other factors.
Lacks a tangible form: Cryptocurrency is often not issued by a central body and does not exist in a tangible form like paper money. However, it is possible, and several countries are working to develop a cryptocurrency equivalent to their fiat money.
Cheap Transfer: Transferring money with some coins is less expensive and quicker than using a credit or other traditional methods (measured in a currency like dollars). Sending cryptocurrency to someone, which can be turned into fiat currency, is less expensive than using a check or wire transfer.
Utilizing blockchain technology: A blockchain is a database that holds encrypted data blocks and connects them to create a single source of truth for the data that is chronological.
Instead of being duplicated or transferred, digital assets are disseminated, producing an irrevocable record of the asset.
Due to the asset's decentralized nature, the public has complete real-time access and transparency.
The document's integrity is maintained via a transparent record of changes, which promotes confidence in the asset.
The public ledger and built-in security features of blockchain make it one of the best solutions for practically every industry.
Benefits provided by Cryptocurrencies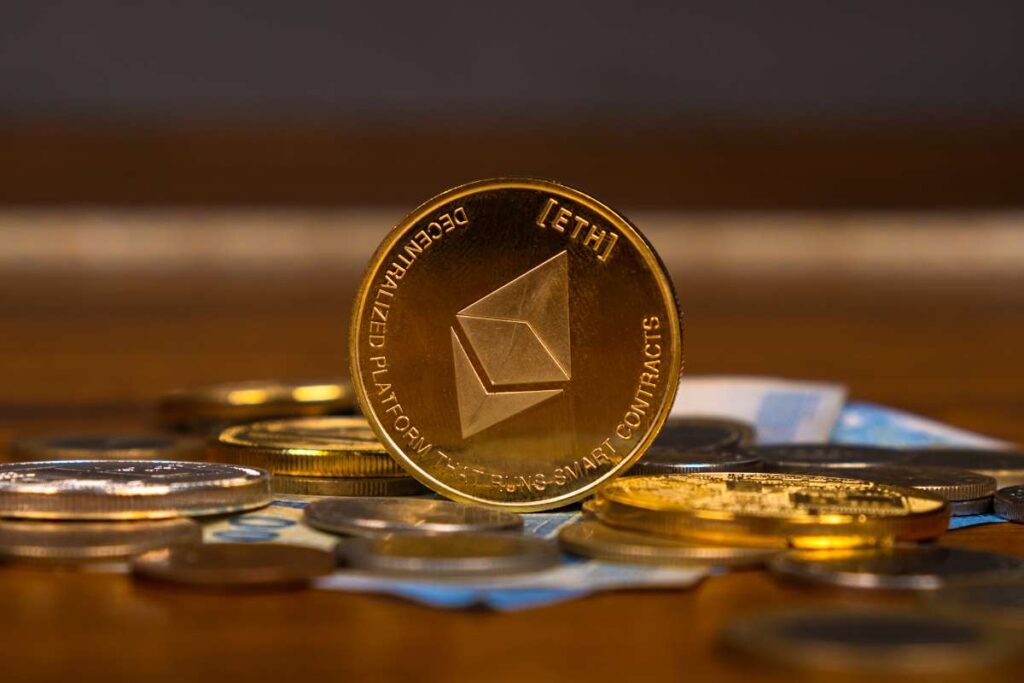 Simple transaction
Transactions using cryptocurrencies are straightforward, often affordable, and fairly private. Anyone can send and receive a variety of cryptocurrencies using a smartphone app, hardware wallet, exchange wallet, etc.
You can purchase many cryptocurrencies, such as Bitcoin, Litecoin, and Ethereum, using cash at a Bitcoin ATM. People could buy Bitcoin at an ATM with cash before sending it to their phone or a digital wallet because cryptocurrency doesn't require a bank account.
Speedy settlement and affordable fees
Others may benefit from the capacity to utilize cryptocurrencies as a medium of exchange, while some investors may just desire to purchase cryptocurrencies to profit from potential price growth.
Transactions involving bitcoin and ether can cost anywhere from a few cents to several dollars or more. It's possible to send other cryptocurrencies like Litecoin, XRP, and others for less money. Most bitcoin transactions are settled within minutes and, in some cases, milliseconds. On the other hand, bank wire transfers usually take three to five business days and might be significantly more expensive.
Diversification of holdings
Currently, the cryptocurrency asset class is acknowledged as being mutually independent. Theoretically, the markets for cryptocurrencies operate independently, and the variables that affect their price movement are frequently different from those that affect the prices of stocks, bonds, and commodities.
Therefore, in terms of diversification, cryptocurrencies provide investors different instruments, from stocks, ETFs or bonds, to try to grow their money. Cryptocurrency offers an alternative source of potential rewards for investors but has unique risks.
Increased Industry Growth
The cryptocurrency market has experienced one of the quickest growth rates since the introduction of Bitcoin in 2009. The combined market value of all cryptocurrencies in 2013 was about $1.6 billion. By September 2022, it is expected to be worth more than $930 billion. That also accounts for the infamous "crypto winter" that prevailed during most of 2022 on the cryptocurrency exchanges.
Because of this, even while the industry has seen remarkable growth over the past ten years, it's important to keep in mind that markets change.
24×7 Open Market
Only during the weekdays from 9:30 am to 4:30 pm are the New York Stock Exchange (NYSE), and other stock exchanges open. Most traditional financial markets are closed on nights, weekends, and holidays.
In contrast, crypto markets work around the clock, every day of the week. The only things that may prevent someone from trading cryptocurrencies would be a power cut, an internet power failure, or a failure of a centralized exchange.
What are the uncertainties regarding cryptocurrencies?
Speculative and Volatile: Cryptocurrency is speculative and has a volatile character. High investment volumes lead to market volatility, which affects prices and creates the possibility of sizable losses for investors.
Reliability and Security: Since cryptocurrencies are a digital form of payment, they have developed into a well-known platform for hackers, terrorism financing, and drug trafficking.Because it leads to a decreased sense of security and a lack of trust, this has increased peoples' fatigue to a greater degree.
For example, thieves used the Wannacry virus as a medium to demand Bitcoin ransom payments.
Issues with the Stock Market: According to the Securities and Exchange Board of India (SEBI), it has no authority over cryptocurrency "clearing and settlement" and cannot offer counterparty guarantees as it can for stocks. Furthermore, cryptocurrencies have not been described as money, a commodity, or security.
Scalability: Scalability is still a big problem for cryptocurrencies because they are based on blockchain technology because of the append-only data storage mechanism used by blockchain technology, which prevents data from being updated and is limited due to rising demand.
Absence of a regulatory framework: The Indian government's approach to cryptocurrencies is waiting and watching. Lack of regulatory authority has increased the probability of fraud, endangering investor protection and money flow throughout the economy.
Flood of Advertising: Because speculation is viewed as a quick method to make money, there has been an explosion of advertising in the cryptocurrency market. It is feared that these initiatives may deceive young people through "overpromising" and "non-transparent advertising."
Money laundering: There is a strong probability that people will start investing in this technique, given how simple it is to transfer money from one nation to another without being held accountable.
No grievance redressal mechanism: Consumers are exposed to transactional and informational risks because there is currently no place where a user may ask for support or a way to resolve a grievance relating to crypto assets.
Decentralized: As opposed to a digital currency issued by a central bank, cryptocurrencies often use decentralized control. A cryptocurrency is deemed centralized if it is manufactured or coined before being issued or if a single issuer issues it. Each cryptocurrency operates using distributed ledger technology, which is often a blockchain and acts as a public record of financial transactions when it is built with decentralized governance.
Where Does India Stand on Cryptocurrency Regulation?
The Reserve Bank of India (RBI) warned that cryptocurrencies and virtual currencies were not recognized as legal money in India in 2017. However, there was no virtual currency restriction.
According to a 2019 RBI announcement, cryptocurrency trading, mining, holding, transferring, and use are all criminal in India with a monetary fine or/and a term of imprisonment up to 10 years.
Additionally, the RBI stated that it might eventually introduce the digital rupee as legal money in India.
The RBI's restriction on cryptocurrencies was removed in 2020 by the Indian Supreme Court.
In the Union Budget for 2022–2023, the Government of India stated that any virtual currency or cryptocurrency asset transfer would be subject to a 30% tax deduction.
Gifts of virtual goods and cryptocurrency will be taxed once they reach the recipient's hands.
In July 2022, the Reserve Bank of India (RBI) proposed a ban on cryptocurrencies due to their "destabilizing consequences" on the monetary and fiscal stability of the country.
What should the course of action be?
Defining Cryptocurrency
Cryptocurrencies must be defined as securities or other financial instruments under Zapplicable national legislation.
Startup Ecosystem and Cryptocurrency
Cryptocurrency and blockchain technology has the potential to revitalize India's startup scene and open up positions for everyone from blockchain developers to designers, project managers, and business analysts to promoters and marketers.
Central Bank Digital Currency (CBDC)
The Indian Finance Minister announced the creation of a Central Bank Digital Currency (CBDC) for India in the shape of the Digital Rupee. India's digital economy will be considerably strengthened by it.
A more efficient and economical method for managing currencies will be produced through digital currency. For CBDC to truly benefit from Blockchain technology, it must be in sync with other cryptocurrencies.
We at Coinxwire offers number one business blockchain and crypto news network on the planet.
Frequently Asked Questions(FAQs)
What are the essential procedures for purchasing cryptocurrency?
Ans: Follow the following steps to purchase cryptocurrencies – 
Pick the top bitcoin exchange.
Open a trading account and verify your email. Now, connect your phone.
Double-check your identification. Next, fund your account.
Buy and invest in cryptocurrencies.
Store your cryptocurrency.
Select a plan of action.
How much is the minimum amount of money you can invest in cryptocurrency?
Ans: You can trade digital currency even with $2 ($2 or €2) linked to your local currency.
How Many Different Cryptocurrencies Exist?
Ans: There are over 12,000 cryptocurrencies, and their growth rate is remarkable. Between 2021 and 2022, the number of cryptocurrencies available doubled. Toward the end of 2021, the market added almost 1,000 new cryptocurrencies each month.
Is buying cryptocurrencies a wise decision?
Ans: Cryptocurrency has several advantages for investors and can be a great investment. However, because it is a speculative investment, certain dangers are particular to the cryptocurrency markets. As a result, before entering the market, investors should complete their research.