Just like paper money or digital cash, cryptocurrencies are a tool to exchange for purchasing stuff. Notion and strategy about Cryptocurrency are spreading fast, as it is a unique and complicated technology that is easily accessible to many.
Many people today have heard about Cryptocurrency, but they are still deciding whether they should invest in Cryptocurrency. Let us understand clearly what cryptocurrencies are:
What is Cryptocurrency?
Cryptocurrency can be described as a type of digital asset. Because every one of its transactions is highly encrypted, the appellation derives from how safe the trades are.
Contrary to traditional currencies, which are regulated and governed by a central body, it is decentralized in nature, which means that you can easily pay back money borrowed from your friend by using Cryptocurrency without any intervention from the bank or any regulating authority.
Cryptocurrencies are very limited in supply and are occasionally compared to precious metals like gold and silver. Mining is using powerful computers to solve complicated puzzles to create bitcoin. This is usually done as a reward for carrying out profitable cryptocurrency transactions.
In other words, introducing new cryptocurrencies into the globe frequently occurs from exchanging more existing cryptocurrencies. Several cryptocurrencies use blockchain technology to manage and record transactions. It is extremely secure for your investments because several companies maintain identical transaction records.
What are various cryptocurrencies available?
According to the CoinMarketCap report, there are around 21,910 cryptocurrencies worldwide with an estimated $850 billion market valuation. Their worth varies with the actions of demand and supply.
Bitcoin (BTC), the first decentralized Cryptocurrency, was released as open-source software in 2009. is by far the biggest Cryptocurrency, and its market valuation is close to $326 billion, as stated by CoinMarketCap. Some investors even prefer it as a store value of money that will grow in the long run.
Except for Bitcoin, all other cryptocurrencies are known as altcoins or alternative coins. Bitcoin is the first and the largest Cryptocurrency that dominates the crypto market, but other options do offer features that are not there in Bitcoin.
The second-largest Cryptocurrency, Ethereum (ETH), which is considered synonymous with Bitcoin, has a market cap of above $154 billion, as stated by CoinMarketCap. Ethereum made its inception in 2015 and has some features like smart contracts & decentralized applications, which Bitcoins lack.
The third largest Cryptocurrency in the world is Tether (USDT). As of 2023, it has a market cap of $66.2 billion and is considered the most stable Cryptocurrency compared to the rest. Tether is a stablecoin backed by currencies like the U.S. Dollars and the Euro.
Crypto Coins vs. Crypto Tokens
There is a sharp distinction between Crypto Coins and Crypto Tokens.
Coins include Bitcoin and alternative cryptocurrencies with their blockchain, such as Ethereum. Most people generally picture digital coins like Bitcoin when they think about cryptocurrencies. Cryptocurrencies are used primarily as payment methods and are native to their blockchains.
Crypto tokens, digital assets kept on the blockchain database, differ from coins. Crypto tokens, in contrast, are established on existing blockchains and might represent an object, such as digital art, or give the bearer access to a particular service or application. A token is a digital object that stands for an object or service. Tokens, as opposed to coins, don't require their blockchain and can operate as a component of another network's ecosystem.
Why are Cryptocurrencies becoming popular?
Although "cryptocurrency" has been used for a while, its popularity has recently increased. Now widely acknowledged as a feasible option for a percentage of any investor's portfolio, including in retirement plans, what was before an alternative investment only available to speculators.
As stated by NASDAQ, there are some factors which had led to the increase in the popularity of cryptocurrencies:
Spread of word about gains
Investors are wild hunters for profits and gains, which Crypto has offered them. The only change is that earlier, the major player was Bitcoin, but now there are many other options, the most appropriate being Coinbase becoming a public company and increasing its access.
Increase in the number of brokers
Much of the rise in the popularity of cryptocurrencies in recent years can be ascribed to their ease of accessibility. While only a few online platforms, such as Robinhood, previously offered cryptocurrency trading, more brokers have started trading in Crypto.
Legalizing the Cryptocurrency
The fact that cryptocurrencies were formerly viewed as a dubious form of payment and rejected by international governments has been one of the main obstacles to their widespread acceptance. But El Salvador became the first nation in the world to accept Bitcoin as a legal tender in September 2021.
Bullish investors are hopeful that this is the first of many nations to start embracing cryptocurrencies, even though this development isn't particularly significant from the perspective of the global economy.
Using cryptos as a payment method
Globally, more and more businesses are starting to accept cryptocurrencies as payment. Using cryptocurrency wallets is just as simple as using Google Pay or Apple Pay, two more popular payment methods. This makes cryptocurrencies appealing to those who wish to utilize them as an asset rather than an investment and investors.
Whether to invest in Cryptocurrency?
Cryptocurrencies can be conceptualized in a variety of ways. For instance, some believe that Bitcoin, in particular, has characteristics very similar to money.
Three fundamental characteristics are commonly regarded as being necessary for something to be deemed money:
It must be a store of value.
It must be a medium of exchange.
An accounting unit.
However, bitcoin can also be viewed as a type of investment asset, much like a stock. Similar to equities, cryptocurrencies may have a high degree of return potential but also carry the risk of severe price volatility and potential losses. For these reasons, the profile of the specific investor may determine whether bitcoin is a good investment.
The CEO and founder of Tarality and Revolution Games, Abhijit Shukla, stated, "Cryptocurrency has the potential to prove to be the finest investment choice. This can be ascribed to consumers seeking alternative investment opportunities, rising Internet usage, and people becoming disenchanted with the established financial system. Cryptocurrency is gradually being acknowledged as a viable alternative to conventional investment vehicles.
Millennials think that these characteristics, along with its widespread availability and high liquidity, make it perfect for keeping wealth for longer periods of time since they anticipate that its value will increase with time."
Benefits of Cryptocurrency
There are many convincing arguments in favor of investing in Cryptocurrency:
Fast-paced industrial growth
The cryptocurrency market has experienced one of the quickest growth rates since the introduction of Bitcoin in 2009. The combined market value of all cryptocurrencies in 2013 was about $1.6 billion. By December 2022, it will be worth more than $815 billion.
Exponentially high returns
When bitcoin originally surfaced in 2009, it essentially had no value. However, over the years, its value increased to a fraction of a penny and tens of thousands of dollars. One of the main advantages of cryptocurrencies for day traders and speculators alike has been the type of volatility that has characterized pricing in the crypto market. Trading can generate profits even when prices decline by taking advantage of price variations.
Diversification of portfolio
By holding a variety of investments that respond differently under the same economic conditions, institutional investors also seek to diversify their risks. Cryptocurrencies being non-correlated assets, offer the opportunity to invest in different Crypto, diversifying the overall portfolio and reducing the risks. Some claim that the diversification benefits of cryptocurrencies are favorable, especially in light of the occurring inflation.
Factors to be considered before investing in Crypto
You can make an informed choice thanks to the abundance of unbiased evaluations and staunchly independent news sources in the bitcoin business. It is essential to research in detail before investing in Crypto.
Timing is everything
Cryptocurrencies like Bitcoin and Ethereum can change drastically without any warning or signal. Digital assets are notoriously erratic. Typically, cryptocurrency investors strive to "buy the dip" or acquire more of an altcoin when its price declines. Always try to buy Crypto during the falling market and sell it at a high price.
Beware of Scammers
You might hear a lot of discussion on social media about an investment strategy that promises to generate significant profits from enigmatic crypto assets. Others exaggerate their projections of Bitcoin's price growth. Sadly, some dishonest players are in the crypto sphere, and exit scams and Ponzi schemes have cost billions of dollars. You must apply your inner sense and judgment to distinguish between scammers and the wellwisher.
Chalk out an investment strategy
Successful traders develop a plan for their cryptocurrency investments. To ensure that their Bitcoin is automatically sold when the price reaches a specific level, it might be essential to set a limit order. On many bitcoin exchanges, you can imitate experienced traders' moves.
Protect the private keys
It is very necessary to remember that you must safeguard your Cryptocurrency. Hardware wallet is one of the best methods since it ensures that your crypto assets are kept securely and remotely from an internet connection.
How to start investing in Cryptocurrencies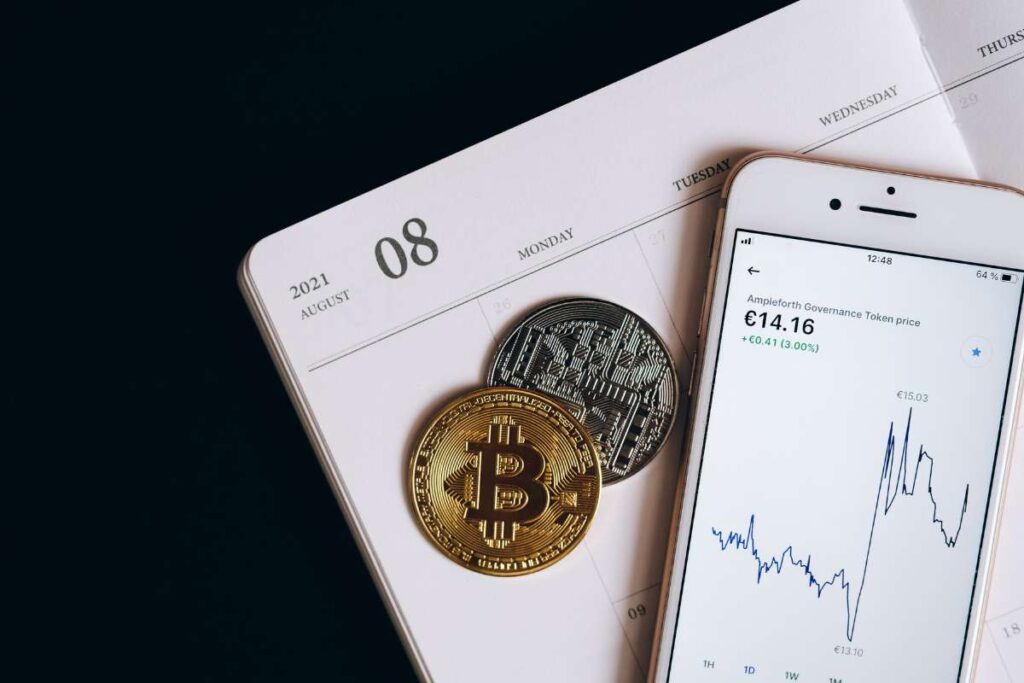 If you're new to cryptocurrencies, learning how to buy Bitcoin, Dogecoin, Ethereum, and other cryptocurrencies can be difficult. Thankfully, getting started is not too challenging. These five easy steps will allow you to start investing in Cryptocurrency.
Just remember that buying Cryptocurrency is completely speculative, and your money is at risk. You also have a huge risk of losing all or part of your money. Furthermore, because bitcoin trading is largely unregulated in India, there are no options for compensation if something goes wrong, such as a business ceasing operations.
Choose the right source
The first step in purchasing Cryptocurrency is choosing a broker or cryptocurrency exchange. You may get the greatest advice and even help you invest in cryptocurrencies at the right time if you choose the proper broker or cryptocurrency exchange.
A cryptocurrency exchange is a site where cryptocurrencies can be traded. Exchanges typically provide inexpensive pricing, but those new to investing in cryptocurrencies may find their more complicated user interfaces, extensive range of trading options, and sophisticated performance charts confusing.
Brokers that deal in cryptocurrencies make purchasing cryptocurrencies easier by offering user-friendly interfaces that interact with exchanges on your behalf. However, some levy fees are more expensive than exchanges. Others promise to be "free" while earning by either failing to execute your trade at the best price on the market or selling information about the products you and other traders are buying and selling to sizable brokerages or funds.
Create your account and verify it
After deciding on a bitcoin broker or exchange, the next step is signing up to create an account. Depending on the platform and the amount of your intended transaction, you might need to show proof of your identity. To prevent fraud and fulfill legal requirements, this is an essential task.
The verification process may or may not prevent you from buying or selling bitcoins until it is complete. Along with a copy of your passport or driver's license, the website can ask you to upload a selfie to demonstrate that your appearance matches the documentation you provide.
Make the deposit
To buy bitcoin, you must ensure you have funds in your account. You might use a debit card to make a payment or link your bank account to your bitcoin account.
Make the investment
You are prepared to place your first cryptocurrency order after money have been deposited into your account. You can pick from hundreds of cryptocurrencies, from well-known ones like Bitcoin and Ethereum to less-known ones like Theta Fuel or Holo.
You can input the ticker symbol of the Cryptocurrency you want to buy (Bitcoin's is BTC, for example) and the number of coins you want to buy when you've made your decision. Most exchanges and brokers allow you to purchase fractional shares of cryptocurrencies, buying a small percentage of pricey tokens like Bitcoin or Ethereum that would otherwise cost thousands of dollars to keep.
Choose your storage method.
Exchanges for cryptocurrencies are vulnerable to theft and hacking because the Reserve Bank of India does not support them. You risk losing your money if you misplace or forget the codes to access your account. Because of this, it becomes necessary to store your Cryptocurrency in a secure location.
As mentioned, you may have little to no control over how bitcoin is kept if you purchase it through a broker. You have more open choices if you buy cryptocurrencies on an exchange:
Leave the Crypto on the exchange
When you buy bitcoin, it is usually stored in a "crypto wallet" connected to an exchange. You can relocate it outside of the exchange to a different hot or cold wallet if you don't like the provider your exchange partners with or if you want to store it someplace more safe. Depending on the currency rate and your transfer amount, you might need to pay some charges to accomplish this.
Hot wallets
These are wallets for digital currencies that may be used on computers, mobile phones, tablets, and other gadgets with an internet connection. Hot wallets are useful, but because they are still linked to the internet, there is a greater chance of theft.
Cold wallets
Because they are offline, cold crypto wallets are the safest option for holding Cryptocurrency. They have the appearance of external devices like USBs or hard discs. However, if you lose the key code associated with a cold wallet or the device fails, you may never be able to recover your bitcoin. Other hot wallets are run by custodians who can help you restore access to your account in the event of a lockout, whereas the same could happen with some hot wallets.
We at Coinxwire offers number one business blockchain and crypto news network on the planet.
Frequently Asked Questions(FAQs)
How old should I be to start investing in Crypto?
Ans: There is no legal restriction on age, but some sites like Coinbase and Paypal require a minimum of 18 years of age to start investing in cryptos.
Are cryptocurrencies free from risk?
Ans: Crypto is a high-risk investment. It is very volatile and fluctuates by a huge amount in a short duration.