In recent years, social networking apps have developed into successful marketing platforms. Using social media platforms like Instagram, LinkedIn, and others effectively may help a brand grow quickly and generate a sizable return on investment. 49% of internet users think they are likely to purchase a brand they see advertised on social media, according to audience research firm GWI.
Here, we'll look at some FinTech businesses that are succeeding on Instagram and other social media platforms and offer some advice for boosting brand recognition and engagement.
FinTech-related technology and innovative ideas have significantly altered the appearance of Indian financial services. India has a global FinTech adoption rate of 87%, significantly higher than the global average of 64%. According to a study done by EY, the prospective Indian FinTech business is expected to produce $200 billion in revenue and $1 trillion in AUM by 2030.
FinTech has significantly impacted the world's financial services industry during the past ten years. Indian FinTech is expanding due to several positive initiatives taken by the government and relevant regulators, a thriving funding environment, a thriving V.C. ecosystem, undeniably enormous demographic opportunities, high FinTech adoption, and access to talent and technology for the entrepreneurs building the new India.
How Can FinTech Companies Grow?
A core social media marketing rule prioritizes visibility over engagement, yet most FinTech companies still need to adhere to this rule. Instead of making the most of each app, the goal is to avoid demonizing the concept of using social media to advertise goods and share company updates. Instagram and other social networking platforms are all about presentation. One error made by businesses is to promote their goods to consumers constantly. Instead of adopting a steady sales pitch, which may soon backfire, successful brands engage people through interactive methods.
This is evident from the Click Through Rate (CTR), a crucial metric that shows businesses how many people are accessing their material. Numerous FinTech businesses have thousands of followers on social media, but there needs to be more interaction with their content. To put this into perspective, the typical CTR for a social media account is between 1% and 2%, and anything higher than 2% is regarded as above average. Accordingly, a FinTech company with 10,000 followers may gather 200–500 engagements on each post, including likes, reactions, comments, shares, and other activities.
Innovation is the opportunity
It's okay for businesses to refrain from regularly posting memes, quick videos, surveys, or other divisive or irrelevant information on social media to draw consumers; rather, it's about coming up with new strategies and experimenting with the constraints placed on them.
Consider the U.K.'s Zopa money-management app, which provides investors a simple way to borrow loans online and earn returns of 3.2% on average. Most people typically find financial and technological topics to be complicated.
However, Zopa elevates instructional information by dissecting subjects through comic book-style animations, in which banks, currency, and other objects and entities interact with one another in a humorous yet instructive way.
Social Media Platforms
Businesses experimenting with different formats on Instagram and other applications can greatly engage their audience. Users can be engaged through polls across all social media platforms, particularly LinkedIn and Twitter. They are particularly well-liked on Twitter's news feed and Instagram stories since they make it easy for users to reply.
Additionally, because these apps show how many people have voted, other users scrolling through the feed or looking at your selected stories are more inclined to participate in the poll. A broker with a London office and Financial Conduct Authority regulation is INFINOX Capital.
Looking at their Instagram account, we can see that they have a consistent colour scheme—black, yellow, and white—and an organized feed with various forms, including jpegs, reels, videos, and polls. Another social media channel that might greatly increase a FinTech company's popularity is TikTok. It offers a variety of features to create this content, including filters and effects, duets, video editing, hashtags, analytics, and more. Its business model is straightforward but effective—engaging users with creative short-form content.
The abundance of influencers and celebrities on TikTok's platform also contributes to its popularity. As a result of their ability to work together to reach hundreds of thousands or even millions of people, FinTech companies can benefit greatly from this technology. Using contests with gifts and prizes during live streams is another option.
This is a crucial point to consider because repeatedly using the same format can eventually get boring for an audience. FinTech companies are hesitant to unleash their creativity or hire independent contractors unfamiliar with their product completely. The ideal option is to hire a competent social media manager who works full-time because they'll download your app and take the time to respond.
How does Content Marketing Assist FinTech Companies?
A strategic marketing strategy known as "content marketing" focuses on producing and disseminating hyper-relevant material to attract customers from targeted demographic segments. It uses data-driven insights to create content that meets your audience's requirements.
Fintech businesses benefit greatly from content marketing since it helps them generate and manage leads while also helping them become fascinating and relevant to potential customers. In addition, content that is posted on websites has a long-lasting ability to draw visitors and create leads. Fintechs should employ content marketing to educate customers, describe their products, demystify complex subjects, and offer expert commentary to build customer confidence.
Based on audience pain issues, there is a need to create a demand for the product in the finance sector. Fintech companies frequently develop solutions to existing problems, but it can be difficult for people to realize the solutions themselves. For this reason, the content marketing strategy will concentrate on informing prospects about the best solutions suited to their needs. The distinct feature of the fintech sector is that its solutions are frequently so specialized that customers need to be made aware that a company is providing a specific answer to their issue.
Additionally, audiences frequently need a thorough understanding of the industry to comprehend the product. The use of complex jargon to describe the product exacerbates this issue. There is one certainty: if people don't understand something, they won't trust it.
Therefore, the main difficulties facing fintech are spreading knowledge about the technology and product, building trust, and educating the audience along the route.
Challenges Faced By FinTech Companies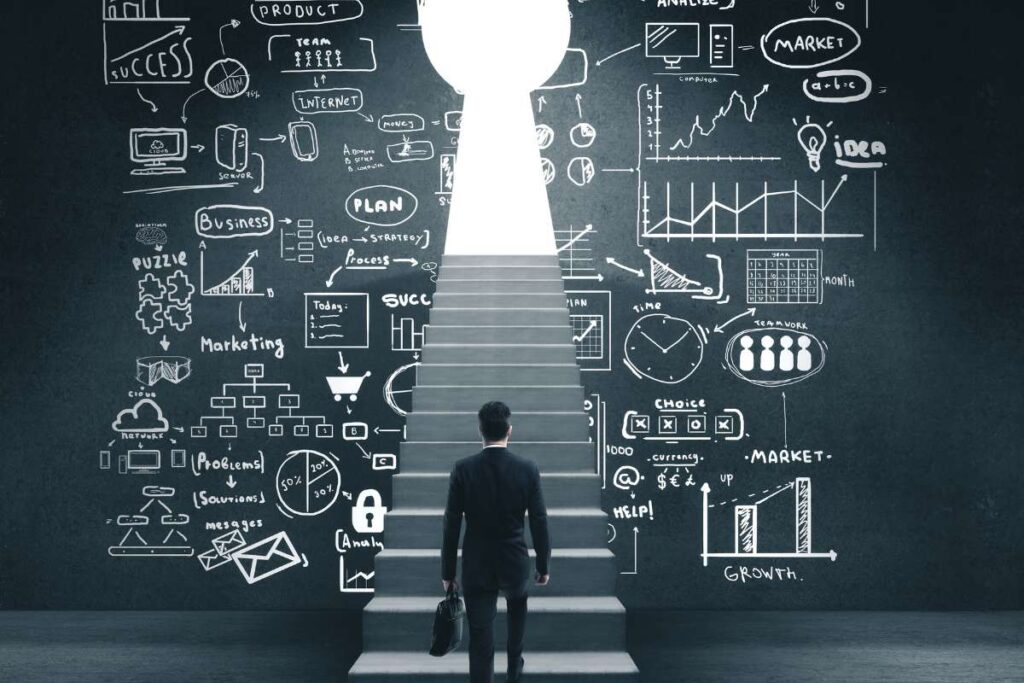 Marketers of fintech apps will spend $3 billion on acquiring new customers globally in 2020. (In Q1 2021, businesses had already invested $1.2 billion.) To attract new clients, most digital payment start-ups provide steep discounts, cash back, etc.
Customers quickly transfer to a different app or service provider if the promotion expires or a rival offers better discounts. For instance, the average uninstall rate for finance apps in 2020 was 35.5%. Finance companies lose, on average, $80,000 per month to uninstallers who didn't use the app to make any money.
As a result, customer acquisition and retention have been fintech marketers' top priorities. But with the correct fintech marketing strategies, marketers may significantly lower the cost of customer acquisition while raising the customer lifetime value (CLV).
Due to the nature of their work, FinTech companies store a tonne of incredibly private information on their clients, including social security numbers, credit card numbers, information about earnings and investments, and more. Due to the increased usage of phone and online banking services, this information is always at risk of being compromised in transit. As a result, the risk is a constant concern regarding fintech, application security, and data privacy.
Starting a finance company is difficult. Due to fraud alerts and data breaches, getting approval to launch a FinTech business is far more difficult. These restrictions are hard to adhere to and make it impossible for FinTech companies to access the Indian market.
As we all know, it might take a lot of work for companies to adapt and offer customized services. Although it is the most significant and crucial aspect of banking, businesses find it challenging to offer. Personalization in the modern world is communicating with users in real time through their preferred channel.
Fintech app usage has increased significantly, yet just 70% of U.S. users have adopted them. Additionally, only 19% of Americans regularly utilize mobile payment apps. In other words, people need to make the most of these programs' potential. Yet why? The easy solution is that either they are unaware of the feature or would choose another app (from a rival) to complete the task.
Opportunities For FinTech Companies
No one wants to go to a real bank, wait in lengthy lines, and fill out a lot of paperwork. Thus traditional banks in India need to do a better job of offering the ordinary population affordable, high-quality financial services. To enable account opening and money transactions at any time and from any location, digital-only banks are now being established. It can increase accessibility and cut costs.
One of the breakthroughs that have impacted every sector, including banking, is digitalization. Massive structural and technological changes are occurring, swiftly becoming the new norm. The introduction of banks that only operate online has boosted efficiency and convenience. as a result of financial services.
FinTech services use cutting-edge technology to be adaptable, quick, and affordable. FinTech can be effective even at lower prices because of virtual operations, flexibility, not being regulated as a deposit institution, and lack of funding from venture capital. How financial transactions are carried out and finished has been dramatically altered by fintech.
Nowadays, the bulk of payments is performed online using internet banking or mobile applications, eliminating the need for customers to visit banks to complete such basic chores physically.
Final Thoughts
FinTech businesses need to improve on social media. Only a select handful have succeeded because they used creative and community-focused strategies instead of relentlessly ramming goods and services down people's throats. Only those who are eager to take chances will succeed on social media. Of course, it's easier said than done, but many FinTech companies must let their ideas and creativity fully flourish.
In conclusion, content marketing is a formidable instrument for fintech companies to scale while developing a steady flow of leads and becoming appealing to their potential customers.
However, depending on the fintech company's specifics and market, content marketing strategies might be implemented very differently. Relying on experts in the sector is essential to ensure that you are using the best tools and strategies.
We at Coinxwire offers number one business blockchain and crypto news network on the planet.
Frequently Asked Questions (FAQs)
The largest fintech company: who is it?
Ans: According to its market valuation of USD 448.93 billion, Visa is among the largest FinTech companies in the world.
Who is the fintech industry leader?
Ans: James Collison John Collison is a prominent player in the financial sector and the president and co-founder of the world's most popular online payments platform.
What four types of fintech are there?
Ans: Four fintech subfields—digital loans, payments, blockchain, and digital wealth management—will be highlighted in this tutorial.